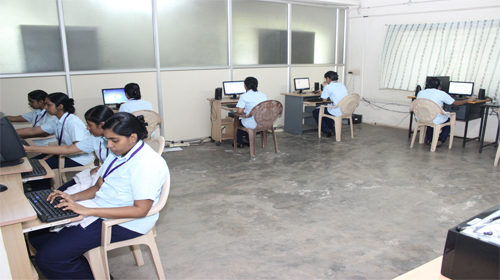 The laboratories in the college form an integral part of their respective departments and feature advanced facilities on par with those other premier institutions.
Our computer labs are highly functional and are constructed to cater the various needs of both undergraduate and postgraduate students like academic purposes, digital learning and internet browsing. Pushpagiri digital library is designed to provide a teaching environment and we offer introduction classes to our first year undergraduate students as part of their curriculum. The lab is available to all faculty and students of Pushpagiri College of Nursing. The computer labs are kept open from 8.00 am to 4.00 pm for the benefit of the students and also given after the above mentioned timing based on special needs of our students.
Our systems are provided by high speed internet connections, so that there is zero delay while venturing out in the world wide web. We have also backed up the entire computer systems with high capacity UPS and hence there is no interruption whatsoever. In addition to that we are blessed with services provided by the IT department of our own institution offering a 24 x 7 care and also maintenance.